CAPABILITIES&CAPACITIES

Luthier Technology Co,. Ltd.
Unit A, 9/F,
Silvercorp International Tower,
707-713 Nathan Road, Mongkok,
Kowloon, Hongkong
Tel: +852 9666 9759
Fax: +852 2110 0996
Email:info@luthiertech.com
www.luthiertech.com
Quality Capacities
Home
> Quality Capacities

ISO 9001:2008 Certified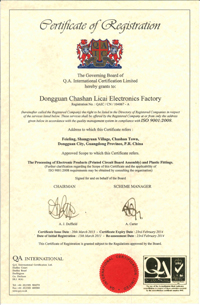 Quality Policy Statement - At LUTHIER TECHNOLOGY CO,. LTD.
We deliver on the basis of an effective quality system the best products and services that exceed our customers requirements and expectations.
All executives and employees of LUTHIER TECH are making continuous efforts to achieve the very best quality in all our products and services we offer.
All commercial products we offer is in strict accordance with IPC international standard- IPC-A-610(Acceptability of Electronic Assemblies).

Inspections in SMT production Line